Off The Beaten Track 2021
March 21, 2021 @ 6:00 am

-

2:30 pm
|
$60.00 – $250.00
Event Navigation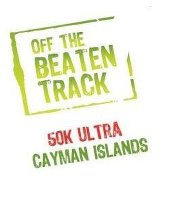 Established in 2010 by KRyS Global Founder, Executive Chairman and ultra-marathon runner, Kenneth Krys, Off The Beaten Track continues to maintain its adrenaline-charged reputation with both local and international participation by creating a different route every year.
Now in its 12th year, Off The Beaten Track is an annual charitable 50km ultra-marathon designed to emulate the Marathon des Sables. With running enthusiasts designing this course, participants can expect to be pushed to their limits. Taking runners on a route through uncharted, lush, tropical bush, sandy and rocky beaches and through unseen back roads on Grand Cayman in the Cayman Islands.
This one-of-a-kind marathon experience offers two challenging options to its runners:
• The individual who seeks an intense challenge can tackle this 50 KM cross-country course, demonstrating endurance and conquering the elements of Cayman.
• 6 runner relay teams can forge friendships, as they each take on a leg of the 50k and connect at the finish line.
Waiver of Liability (the "Waiver")
AS A PARTICIPANT in the Off Road Race please read the following notice carefully before signing.
I ACKNOWLEDGE THAT running is a potentially hazardous activity and carries with it the risk of injury or death. I, the undersigned, hereby assume the risk of participating in the Off Road Race.
I CERTIFY that I am physically fit and have not been advised against participating by a qualified health professional.
IN CONSIDERATION of the following and of your accepting this entry, I hereby agree on behalf of myself, my executors, administrators, heirs, next of kin, successor, assigns, and any other person who may claim or sure on my behalf, the following:
a) to abide by any and all rules as provided by the organizers of the OFF Road Race;
b) to WAIVE RELEASE and FOREVER DISCHARGE from any and all claims, losses, economic or otherwise, or liabilities for death, personal injury, partial or permanent disability, damage to property, all payment relating to medical costs of hospitalization, theft or damages of any kind, which may arise as a result of or relate to my participation in the said Off Road Race, the following persons or entities: KRYS & ASSOCIATES CAYMAN LTD. (trading as KRyS GLOBAL), FACING AFRICA CAYMAN, THEIR DIRECTORS, MEMBERS, AGENTS, AND OFFICERS, EVENT SPONSORS, RACE DIRECTORS, RACE PRODUCERS, VOLUNTEERS, EVEN WHEN SUCH CLAIMS, LOSSES OR LIABILITIES ARE CAUSED AS A RESULT OF THE NEGLIGENT ACTS OR OMISSIONS OF THE PERSONS OR ENTITIES I AM HEREBY RELEASING OR ARE CAUSED BY THE NEGLIGENT ACTS OR OMISSIONS OF ANY OTHER PERSONS OR ENTITIES;
c) to assume the risk of running on land that may not be fit for purpose, including but not limited to falls, contact with other participants, effects of weather including but not limited to heat and/or humidity, defective equipment, road condition, water hazards, any hazards that may be posed by spectators or volunteers, all risks being known and appreciated by me; and I further acknowledge that these risks include risks that may be the result of the negligence of the persons or entities mentioned above for any of the claims, losses, liabilities that I have waived, released or discharged herein;
d) to agree not to sue any of the persons or entities mentioned above for any of the claims, losses, liabilities that I have hereby waived, released or discharged herein;
e) to indemnify and hold harmless the persons and/or entities mentioned above from any and all expenses incurred, claims made, or liabilities assessed against them including but not limited to attorney's fees and litigation expenses arising out of or resulting directly or indirectly, in whole or in part, from (i) my actions or inactions (ii) my breach or failure to abide by any part of this Waiver including but not limited to my covenant not to sue (iii) any breach on my part in abiding by any rules provided by the Off Road Race organizers or (iv) any other harm caused by me;
f) to grant permission for the use of my name and or likeness in any media related to the Off Road Race and to waive any and or all future compensation to which I may otherwise be entitled as a result of the use of my name and likeness;
g) to confirm that I understand that the entry fee is non-refundable and that the event may be canceled due to weather conditions and/or natural disasters; and
h) to confirm that I am eighteen years (18) of age or older, that I have read the Waiver and I understand its contents or that I am a Minor and that my parent(s) and or legal guardian agree(s) and accept(s) to be bound by the terms and conditions contained within the Waiver.